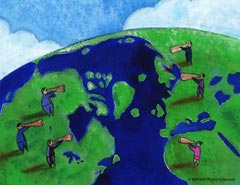 Our Mission
The mission for the Augusta's Interfaith Coalition is: "To Strive for 100% Citizen and Voter Participation in the democratic system of informed voting and activitism as a community service organization"
Who We Are?
The Augusta Interfaith Coalition celebrates religious freedom by championing individual rights, promoting policies that protect both religion and democracy, and uniting diverse voices to challenge extremism and complacency in the Augusta - Richmond County and surrounding areas.

Who We Are Not?
The Augusta Interfaith Coalition and its members are not rubber stamps for politicians and policies. We believe that it is our spiritual responsibility to define our purpose and to pronounce our positions.

What We Believe?
We believe that religious freedom is a foundation for American democracy.
We believe that individual rights and matters of personal conscience must be held sacred.
We believe that religious and political extremists are a threat to individual liberty and democracy.
We believe that anything affecting humanity and society, whether religious, legal, political, social, psychological, economic, financial, discriminatory, medical or other entity is an interest of the Augusta Interfaith Coalition.
We believe that celebrating religious and cultural difference is the way to achieve a vibrant community
The symbols of fourteen religions are shown. Clockwise from the North Pole, they are: Baha'i, Buddhism, Christianity, Confucianism, Hinduism, Islam, Jainism, Judaism, Shinto, Sikhism, Taoism, Wicca and some other Neopagan religions, Zoroastrianism, and Druidism.